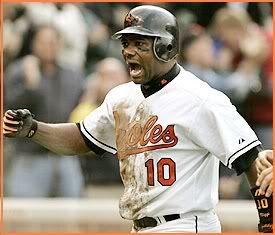 "Mierda ocurre..."
In what some baseball experts are calling a, "blockbuster trade", Miguel Tejada was traded to the Houston Astros today for 4 guys you never heard of, and Luke Scott, a 29-year-old outfielder who will probably be selling gym memberships in two or three years.
Tejada forced his way out of Baltimore. I don't blame him. Baltimore is a filthy shit-hole, and the owner of the Orioles (Peter Angelos) thinks it's hysterical to flush his team down the toilet while signing nerds like Kevin Millar to be the face of the franchise. You know Millar, the inventor of, "Cowboy Up", and all those other hokey/faggity shenanigans that came along with the 2004 Red Sox. Fuck him.
Fact Check: I hate Kevin Millar. But I digress…
Anyway...Miguel, have fun in Houston. Have fun trying to score 57 runs a game to win whenever Roy Oswalt isn't on the mound. Have fun playing in that stupid park that has a fucking hill in centerfield, and a fucking choo-choo train riding around the outfield wall.
Where was I going with this?